Many Qflex features utilize polling policies, including monitors, scheduled reports, maintenance windows and others. Cron expressions are powerful, but not really intuitive and easy to create. For that reason Qflex provides sepcial user interface to set these up. Even though Qflex v4.5.0 will come bundled with a good set of pre-configured polling policies, there would still be times demanding for custom schedules.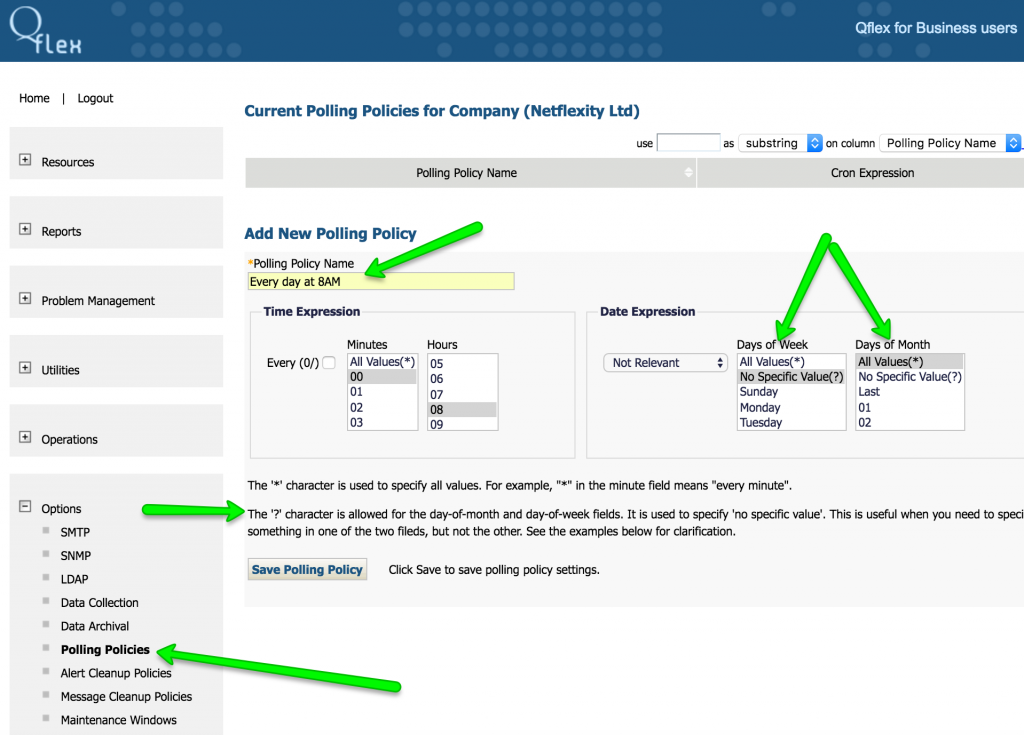 Illustration above create a schedule that will execute every day at 8AM. Once the policy is created, it could be referenced in various features throughout Qflex product.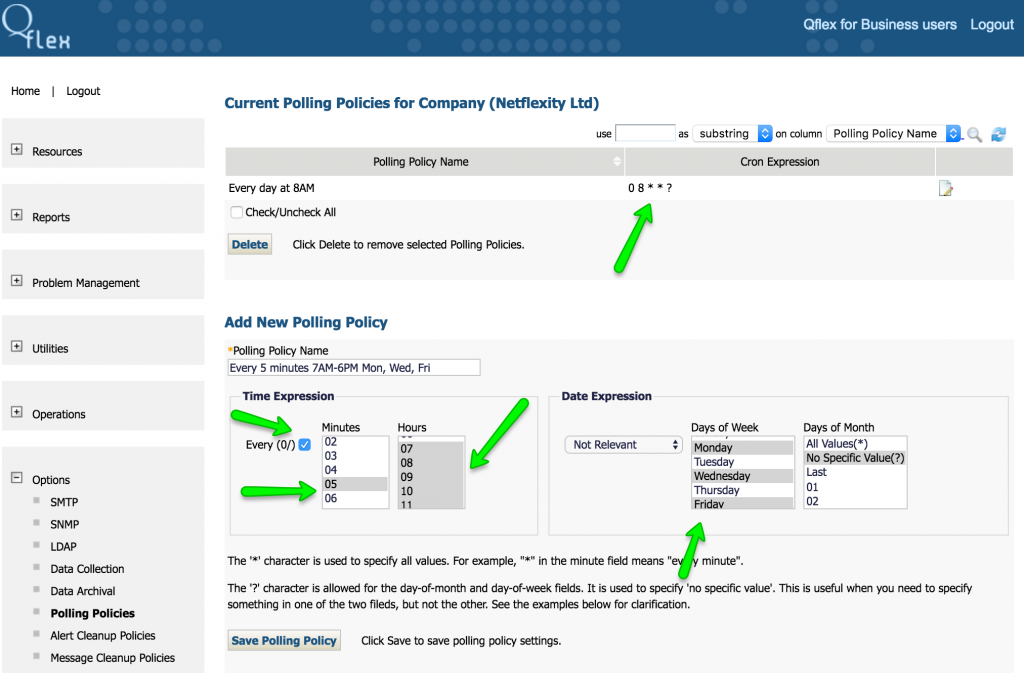 Once polling policy is saved, a list of existing policies above will also show raw cron expression that you could use to compare to expressions that you already have or found on the web as examples. In the illustration above, we are also creating a much more complex schedule that runs every 5 minutes on Monday, Wednesday and Friday from 7AM to 6PM. Resulting cron expression is illustrated below.

A good online reference point for cron expressions, please see http://corntab.com
Other Examples
At every minute on Saturday and Sunday
*/1 * * * 6,0

At every 5th minute on Saturday and Sunday
*/5 * * * 6,0

At every 10th minute on Saturday and Sunday
*/10 * * * 6,0

At every 15th minute on Saturday and Sunday
*/15 * * * 6,0

At 00:00 on Saturday
0 0 * * 6

At 00:00 on Sunday
0 0 * * 0

At 00:00 on Monday
0 0 * * 1

At every minute
*/1 * * * *

At every 5th minute
*/5 * * * *

At every 10th minute
*/10 * * * *

At every 15th minute
*/15 * * * *

At every minute past every hour from 7 through 18
*/1 7-18 * * *

At every 5th minute past every hour from 7 through 18
*/5 7-18 * * *

At every 10th minute past every hour from 7 through 18
*/10 7-18 * * *

At every 15th minute past every hour from 7 through 18
*/15 7-18 * * *

At every minute from 0 through 59 past every hour from 18 through 23 and every hour from 0 through 6
0-59 18-23,0-6 * * *

At every 5th minute from 0 through 59 past every hour from 18 through 23 and every hour from 0 through 6
0-59/5 18-23,0-6 * * *

At every 10th minute from 0 through 59 past every hour from 18 through 23 and every hour from 0 through 6
0-59/10 18-23,0-6 * * *

At every 15th minute from 0 through 59 past every hour from 18 through 23 and every hour from 0 through 6
0-59/15 18-23,0-6 * * *

At every minute past every hour from 7 through 18 on Monday, Wednesday, and Friday
*/1 7-18 * * 1,3,5

At every 5th minute past every hour from 7 through 18 on Monday, Wednesday, and Friday
*/5 7-18 * * 1,3,5

At every 10th minute past every hour from 7 through 18 on Monday, Wednesday, and Friday
*/10 7-18 * * 1,3,5

At every 15th minute past every hour from 7 through 18 on Monday, Wednesday, and Friday
*/15 7-18 * * 1,3,5